Ampzilla 2000 Second Edition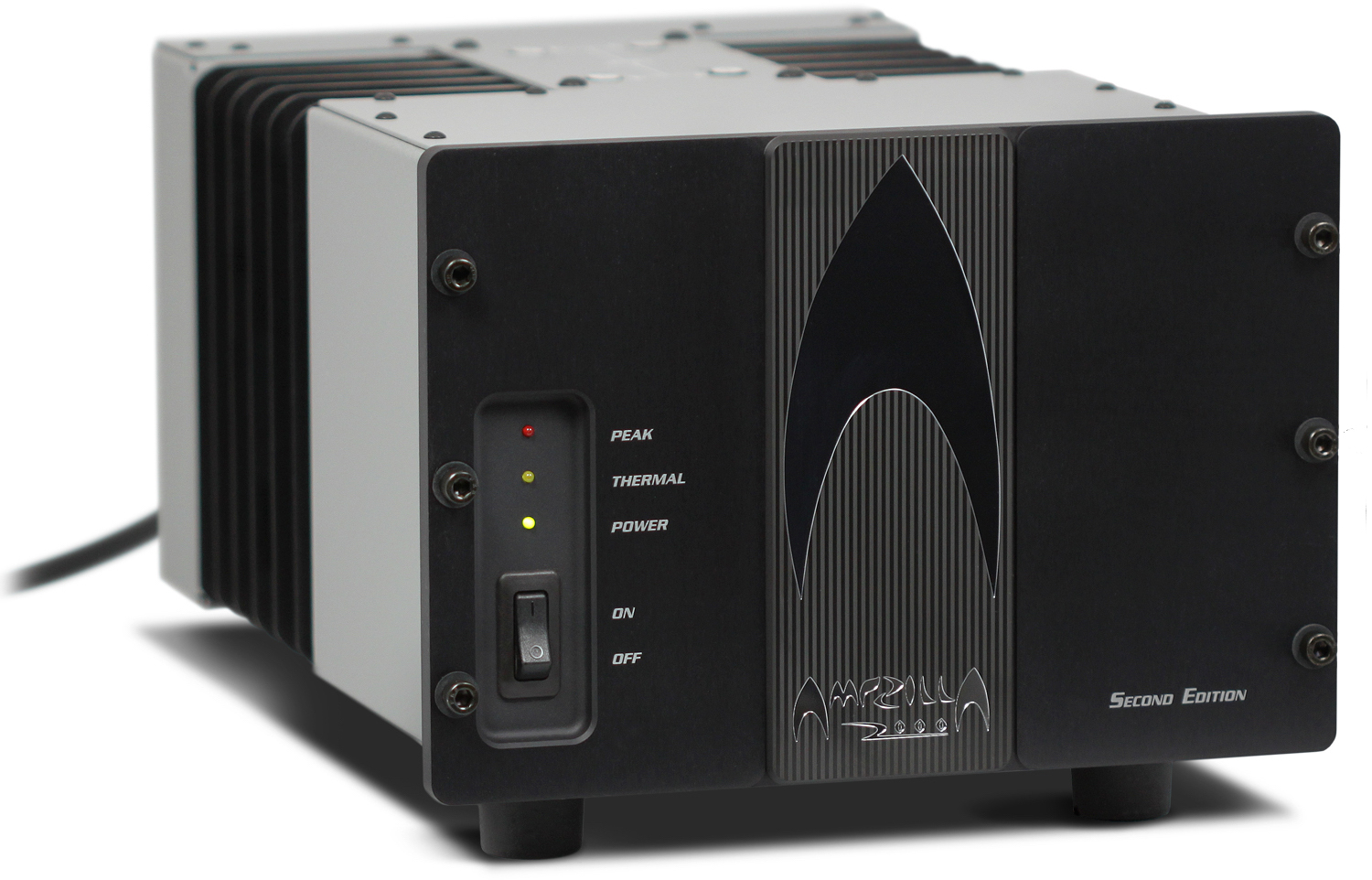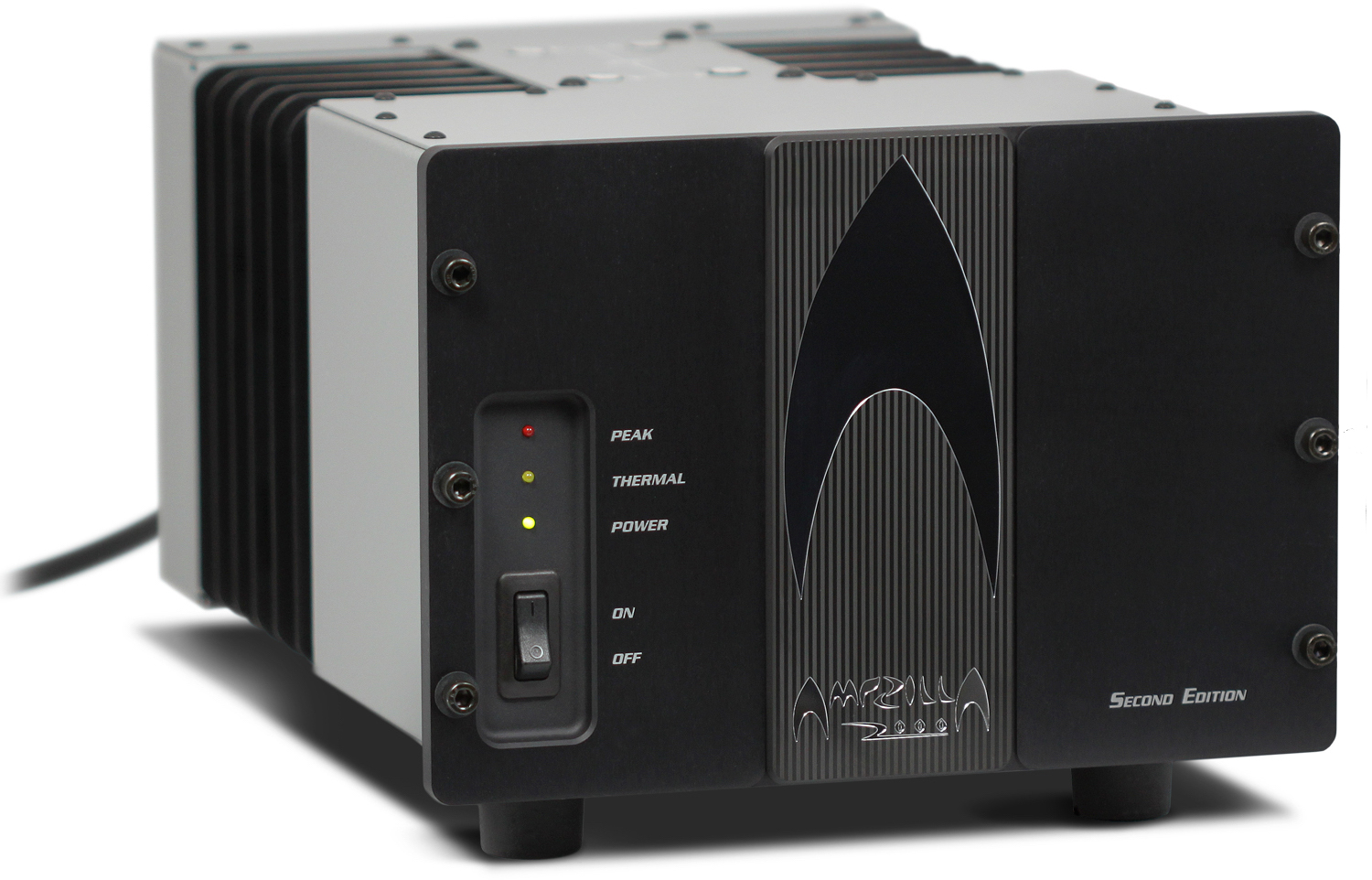 Ampzilla 2000 Second Edition
Power and Grace
MONOBLOCK AMPLIFIER
Our flagship, monoblock amplifier.
Add Quantity: (2ea) for a stereo pair
The Ampzilla 2000 Second Edition embodies state-of-the-art execution of a monoblock power amplifier. On the muscle side, the Ampzilla uses twelve 250-watt output devices and a 2000VA custom designed and built transformer for each monoblock. As well, each monoblock has 100,000µf of power supply filtering with dual rectification. Utilizing a completely new variation of our Forward Gain topology to achieve unprecedented improvements in linearity, the new circuit is so smooth that it can actually be listened to open loop without feedback.
The Ampzilla 2000 Second Edition is conservatively rated at 300 watts into 8Ω. With this much power, a pair can drive the most demanding speaker loads to thunderous levels as deftly as they can whisper the most delicate notes from higher sensitivity speakers.
The entire circuit is fully balanced from input to output and includes a unique new unbalanced-to-balanced converter for single-ended inputs. The captive industrial-grade 12 gauge power cord is selected specifically for the Ampzilla and is welded on for maximum conductivity and security, eliminating the hassle or expense of aftermarket cords. The Ampzilla 2000 Second Edition also sports a second set of binding posts for bi-wiring or -amplification. In sum, this proficient powerhouse is likely the last amplifier you'll likely ever need.
FEATURES The entire amplifier circuit (except the power output stages) is contained on one main drive card which also contains the input jacks. This ensures that the amplifier is upgradeable with future circuit improvements 100% stable at any load angle 0-90 degrees, capacitive or inductive, regardless of wave shape.
Extremely capable 300 watts into 8Ω
Fully balanced design
Protection power switch/circuit breaker Four DC power supply fuses with indicators
All-steel 14 gauge chassis with powder coat finish Front panel "Peak", "Thermal" and "Power" LED indicators
Turn-on delay and surge relay protection
Custom-designed power transformers, constructed domestically
Highest quality gold plated input and output jacks
Gold plated internal connectors
Captive 12 gauge power cord with welded connectors
SPECIFICATIONS Power Rating 8Ω: Minimum 300 watts, 20Hz–20kHz Input Impedance and Sensitivity Unbalanced: ± 1 V RMS across 50kΩ for 300 watts into 8Ω Balanced: ± 1 V RMS across ± 70kΩ for 300 watts into 8Ω Frequency Response and Power Bandwidth at Rated Power 8Ω: Better than ± .2 dB 20Hz–20kHz THD and IM Distortion Less than .05% @ any power level up to rated at any frequency or combination of frequencies between 20Hz–20kHz Damping Factor Greater than 250 @ 20Hz Noise Better than -120dB relative to full rated power Gain 26dB (balanced and unbalanced input) Weight 58 lbs. Dimensions 14 ⅜" L x 11" W x 7 ½" H
"The Ambrosia and Ampzilla 2000 are by any standard statement products that can take their place among the finest amps and preamps money can buy.... If I were closing up shop tomorrow as a reviewer, I would buy them and live happily ever after." — Paul Seydor, The Absolute Sound

"This is a game changing product.... I realized that the natural comparison for the solid-state Ampzilla 2nd Edition amplifiers is not to other solid-state amplifiers, but to vacuum tube amplifiers with their natural and lifelike sound. We take for granted the tubes' wonderful harmonic depth and realistic presentation of voices and acoustic instruments, while accepting their almost universal weaknesses in the bass and upper treble. Eliminate those weaknesses, ... and you have the Second Edition Ampzillas." — Jerry Seigel, 10 Audio

"We've been playing various amps at many shows and always had great sound, but the Ampzillas were something special! Powerful and sweet at the same time, with seamless authority with both our 88db Stellar12 and 95db Trio15 Voxativ speakers. WOW!!!" — Ze'ev Schlik, Owner, PureAudioProject